There are many insects that spread diseases. When an insect bites you, tiny microorganisms can move from the insect into your bloodstream. If your body can't fight off these organisms, you can get sick. Mosquitoes spread scary diseases like malaria, West Nile, and Zika. Ticks spread Lyme disease, Rocky Mountain spotted fever. Fleas can make you sick from murine typhus, bartonellosis, and bubonic plague. So, how do bed bugs rate? At the time of this writing, there are currently no confirmed cases of disease transmission between bed bugs and humans. There is, however, research evidence that bed bugs can carry and transmit the protozoa responsible for Chagas disease, and they have been found to have other disease candidates. While this is a concern, it is not yet a real-world concern.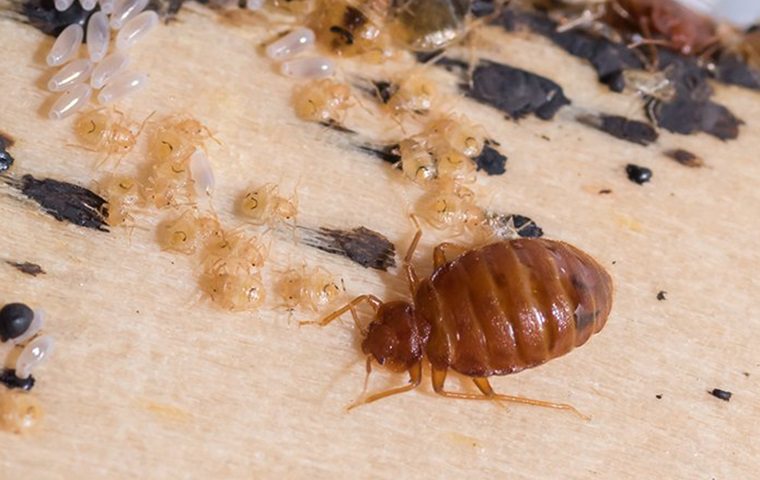 What You Should Know About Disease Transmission
Bed bugs aren't born with diseases. They must contract a disease-causing organism in order to make you sick. They do this by feeding on an infected person or animal. When you find bed bugs in your home, it is possible that those bed bugs hatched in your home. If so, they've only been exposed to those who live in your home. If there is a disease risk, it is greater when you are exposed to bed bugs while away from home, or when you bring adult bed bugs into your home.
The Real Threat Bed Bugs Present
Insect allergies can put you in danger. For the vast majority of people, allergies to bed bug bites only lead to a rash around the bite wounds. Some have more severe reactions and bite wounds can become painful, swollen, and intensely itchy. But, in very rare cases, anaphylaxis can occur. This is a potentially life-threatening condition. If you have a sensitivity to insect bites, you should be aware of this threat.
General Bed Bug Concerns
There are a few ways bed bugs can impact the health and well being of you, your family, and anyone else living in your home.
Bites — Bed bug bites may be slight at first, but they inevitably start to become itchy, uncomfortable welts as bed bugs continue to feed, over time. These bite wounds are numerous because each individual bed bug bites several times.
Anemia — If bed bugs are allowed to draw your blood over and over again, it can lead to a condition called anemia. This condition can have serious implications for your health if not dealt with. Early symptoms are fatigue, lightheadedness, rapid heartbeat, and shortness of breath.
Sleeplessness — If bed bugs keep you up at night, this can lead to sleep deprivation. At first, this is only a minor inconvenience, but it can become a serious threat as it can impact your ability to operate a vehicle and can cause anxiety, depression, and other mental health issues.
Disruption — The most common way bed bugs harm people is by disrupting their lives. Bed bugs can cause trouble for your kids at school and they can cause friends or family to not want to visit you. This can put a stop to birthday parties, game nights, and other gatherings you have at your home.
The Hidden Danger Of Bed Bugs
When bed bugs get into Oklahoma City homes, some residents attempt to take care of these bugs on their own and then find out that this is much more difficult than they could have imagined. Here are a few reasons why:
Bed bugs are tiny insects that prefer to be in very tight spaces. You will have trouble treating them with anything topical, especially if the product has no residual effect.

Bed bugs can develop a resistance to chemicals. If a bed bug is exposed and survives, it can become immune. It can also spread this immunity to its offspring.

You can catch bed bugs with traps and other products that eliminate them, but bed bugs have behavior patterns that allow them to detect threats in their environment, and they work together to avoid danger. Finding dead bed bugs can give you a false positive that your infestation has been corrected.
Bed bugs live almost entirely inside man-made structures, and they've been doing so for centuries. If bed bugs were easy to control, there would be no bed bugs left in the world. We don't recommend trying to deal with these pests on your own.
What To Do About Bed Bugs
If you live in Oklahoma City, contact Guaranteed Pest Service of Oklahoma for immediate assistance. Our team uses advanced strategies and a multi-pronged approach to ensure the greatest level of control for bed bugs. We can provide you with the bed bug control service you need to fully eliminate those bugs. Connect with us today and tell us about your bed bug problem.