Nothing puts a damper on a sunny spring or summer day more than a wasp sting. You probably already know a wasp sting can be painful, but should you be worried about Oklahoma City wasps being dangerous? Here's what you should know about identifying wasps, how dangerous they are, how you can prevent them naturally, and what to do if you've got an existing wasp problem or nest on your property.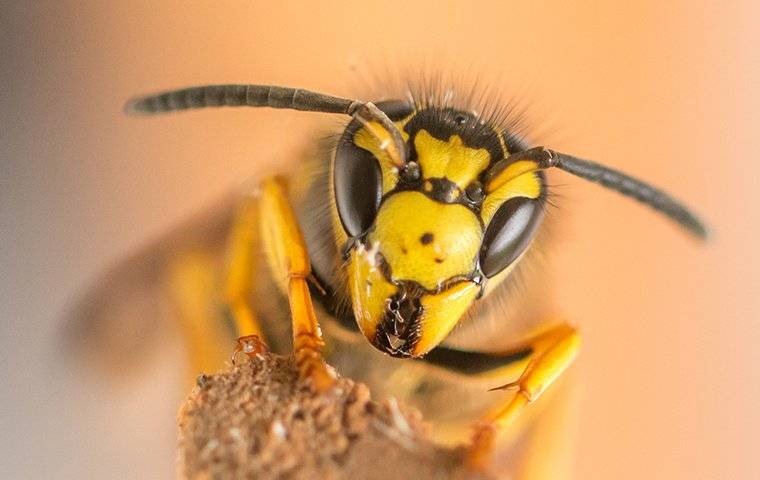 What Do Wasps In Oklahoma City Look Like?
Not all stinging insects are the same, and wasp stings may be more severe than the sting from a honeybee – so it's important to be able to identify these troublesome pests. For Oklahoma City homeowners, there are a few different types of wasps you may encounter around your property:
Paper wasps: With brown or black coloring, paper wasps have gray wings and a combination of yellow and orange markings. They get their name from the paper-like texture of their nests.

Yellowjackets: Yellowjackets may be the easiest wasp to recognize due to the striped black and yellow pattern on their bodies. Given their aggressive nature, you probably don't want to get too close to these wasps or the large nests they like to build in the ground and trees.

Bald-faced hornets: Not only can you recognize them by their large size, but bald-faced hornets also have black bodies with a white pattern on their faces.
How Dangerous Are Wasps In Oklahoma City?
Not all stinging insects are considered dangerous, but the wasps in Oklahoma City can be a threat for a couple of reasons. A wasp sting and the venom that it injects can be quite painful, but in some cases, they may also lead to other health problems. If you're allergic to wasps, getting stung could trigger a severe allergic reaction, like anaphylaxis, that requires immediate medical intervention. But wasps can even be dangerous if you're not allergic.
Unlike honeybees, wasps have smooth stingers, which allow them to sting you as many times as they want without consequence. These pests are also aggressive defenders of their nest, so they won't hesitate to sting you if they feel like you're too close to their colony. Accidentally stumbling upon a wasp nest could trigger a swarm of wasps to attack, and that can be dangerous for anyone – regardless of whether you're allergic or not.
Natural Wasp Prevention Tips For Oklahoma City Properties
As stinging insects, wasps may be harder to prevent than some pests, but there are ways to naturally reduce their presence around your property, including:
Replace any ripped or torn window and door screens. Wasps may sometimes enter your home, and broken window and door screens are one of their favorite entrances. Make sure you regularly check screens for any tears and repair or replace them as needed.

Plant some natural wasp repellents. Certain plants, like lemongrass, citronella, mint, and wormwood, are known as natural wasp-repellants. Planting them in your garden may help keep wasps from spending too much time in your yard or around your home.

Avoid planting wasp attractions. Just like certain plants may repel them, there are other plants that wasps may be more attracted to. This includes flowering plants that provide wasps with sweet nectar.

Don't leave food scraps around your property. Protein and sugary foods are a big wasp attraction, so it's important to make sure you're cleaning up after meals and keeping a tight lid on any outdoor garbage cans.
The Safest Form Of Wasp Control In Oklahoma City
While you can use the tips above to reduce wasps around your yard, what should you do if there's an existing problem or you've found a wasp nest on your property? Given how dangerous they are, you should never try to eliminate a wasp nest on your own – even if you think the nest may be abandoned. The safest way to control wasps around your Oklahoma City home is with professional help from Guaranteed Pest Service of Oklahoma.
Our residential pest control experts have the gear, training, and experience to keep your property wasp-free and safe for you and your family. If you're finding too many wasps around your property or you've discovered a nest, there's only one thing to do – call us today at Guaranteed Pest Service of Oklahoma for more information about our wasp control services.