What are bed bugs?
As their name implies, bed bugs are known to end up in people's beds, which leads to complications for people who don't want them in their beds. Bed bugs feed on blood and hitchhike by clinging to various surfaces such as suitcases, clothing, and other materials to cover long distances.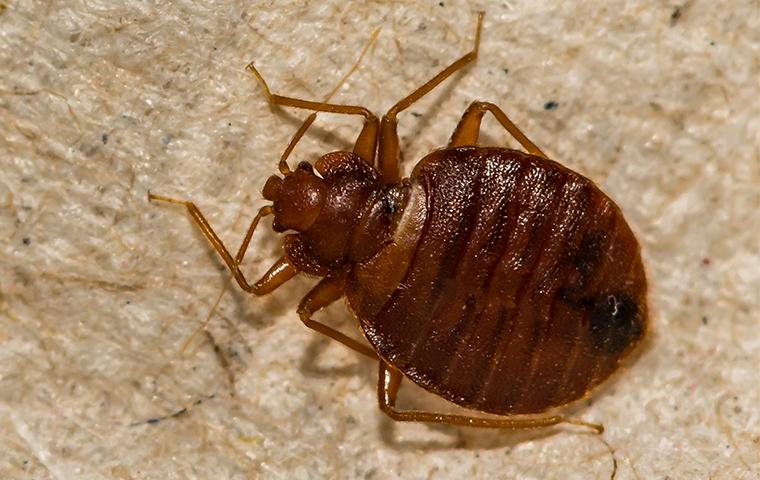 This pest boasts an oval shape and only grows to about three-sixteenths of an inch in length. Before feeding, bed bugs are brown and flat, similar in appearance to an apple seed. After feeding, bed bugs become red while swelling and elongating in size. Like most insects, this pest has six legs and antennae.
Thanks to their hitchhiking habits, you'll find this pest throughout the United States, including Oklahoma, wherever people congregate. These locations include but aren't limited to hotels, retail stores, residences, offices, schools, and sources of public transportation.
Are bed bugs dangerous?
While bed bugs are known to dine on any warm-blooded animal they can get in contact with, they do not transmit any diseases. However, that doesn't mean they don't pose certain dangers.
Bed bug bites can cause red, itchy welts, which can cause people to scratch without stopping. This need to scratch is due to an allergic reaction to the bed bug's saliva. If the bites are scratched open, they can become infected like any open wound.
Since this pest is difficult to detect and control, many people have reported feeling mental strains such as stress, which can lead to ongoing issues for people if not addressed quickly enough.
How do I know if I have a bed bug problem?
There are a handful of ways to easily identify potential bed bug infestations in your building. Some of the most common methods are:
Fecal spots: These are usually found on the walls, upholstery, or mattresses and are generally a reddish-brown color.

Bite patterns: Bed bugs leave bite marks in a noticeable pattern, usually on the arms and legs.

Left behind evidence: Bed bugs shed skin and leave behind eggs. Evidence of either indicates an infestation.

Bed bug sighting: Seeing the bed bug itself is an automatic way to identify that you have a bed bug problem.
Where will I find bed bugs?
Bed bugs live wherever humans or other warm-blooded animals live. As such, they don't really boast an outdoor habitat. Instead, they focus on hotspots for human activity. Besides homes, you'll most often find them in public spaces like public transportation hubs, hotel rooms, libraries, and other similar locations.
How do I get rid of bed bugs?
Bed bugs are a significant problem that requires professional intervention for two main reasons. For starters, you can't starve them out since they can survive for several months without a meal.

Also, they can reproduce rapidly. It only takes 21 days for nymph bed bugs to become adult bed bugs. That's why an infestation can spiral out of control quickly. While there are effective DIY treatments such as using high heat when washing or drying your laundry, they are greatly limited and rarely effective.

For these reasons and more, you should seed professional assistance whenever an infestation is observed or suspected. At Guaranteed Pest Service of Oklahoma, our team has the training and resources needed to address your bed bug concerns.

Upon discovering bed bugs or any other pest on your property, reach out to Guaranteed Pest Service of Oklahoma. Our team is ready and willing to assist you from start to finish with your pest problems. Call today to find out more about your bed bug control options in Oklahoma City, OK.
How can I prevent bed bugs in the future?
There are ways to prevent a bed bug infestation from occurring. Some of the most successful methods include:
Elevated luggage: Don't place your luggage on the floor while traveling or in public places.

Hotel room inspection: Before accepting the room, carefully inspect it for signs of bed bug activity to keep them from going home with you.

Regular vacuum and washing: Sticking to a regular vacuum and wash schedule will help prevent and keep bed bug populations from occurring. Use the highest heat setting on your washer and dryer.

Avoid secondhand: Used furniture is a hotbed for bed bugs. Don't purchase or bring inside secondhand furniture to keep bed bugs away.
Learn more about our home pest control options and commercial pest management solutions.
Request Your Free Estimate
Complete the form below to schedule your no obligation estimate.