What are cockroaches?
In general, cockroaches are insects that possess an oval-shaped body that appears flattened. They range in size from one-half to three inches in length and are usually reddish-brown or black.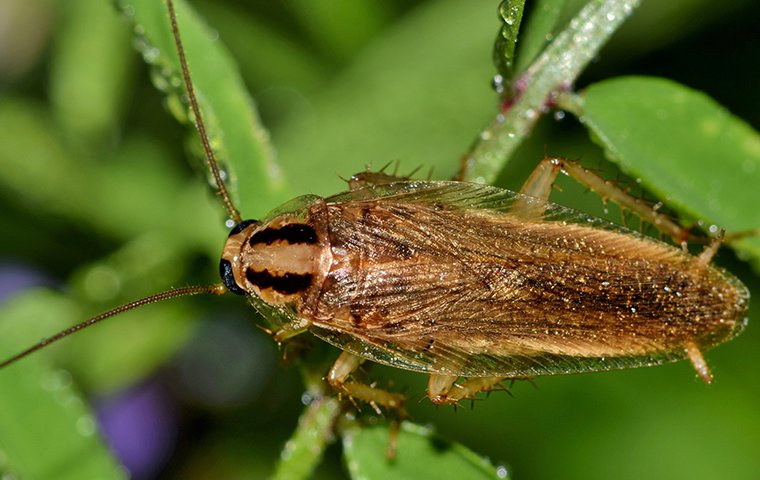 While they all look similar, there are four different species of cockroaches prevalent in Oklahoma. Each species has different behaviors and slight differences in their appearance. However, the best way to identify the appropriate species is to work with a pest control company trained in cockroach identification and removal.
American Cockroaches
Periplaneta Americana (L.)
This cockroach species can grow to nearly three inches in length with a reddish-brown body with a yellow figure-eight pattern on the back of its head. You can find them throughout the United States.
German Cockroaches
Blattella Germanica (Linnaeus)
German cockroaches are quite different from American cockroaches. They have a light brown body and only grow to between one-half and five-eighths of an inch in length. German cockroaches are the most common species throughout the world, including the U.S.
Oriental Cockroaches
Blatta Orientalis
The Oriental cockroach has a shiny black body with some variations to their dark reddish-brown color. This species only grows to about an inch in length. In addition, Oriental cockroaches secrete chemicals to communicate with other cockroaches, which leaves a musty odor behind.
Brown-Banded Cockroaches
Supella Longipalpa
The brown-banded cockroach grows to about a half-inch in length and is usually confused with its German cousin thanks to similar coloring. However, you can easily identify this species by the light brown circle found on the top of their heads.
Are cockroaches dangerous?
Fortunately, cockroaches aren't a direct threat to people's safety through bites or anything similar. However, they do pose a significant risk to your health and even your personal property.
Cockroaches shed their skins and produce excrement, which is known to trigger allergic reactions, as well as asthma. They are also extremely dirty and will contaminate any surface or food they touch with a range of illnesses such as E. coli, salmonella, and a lot more.
Since cockroaches are scavengers, they will feed on non-food items when necessary. As such, things like curtains, clothing, books, and more are at risk. They're also known to stain surfaces, smearing them with their excrement, and increasing the risk of contamination.
How do I know if I have a cockroach problem?
The first and most obvious sign of a cockroach problem is to observe a cockroach in your home or place of business. However, there are other signs to watch for, such as:
Egg casings

Fecal matter

Shed skins

A strong, musty odor near the center of the infestation
Where will I find cockroaches?
In general, cockroaches prefer to live outdoors in locations like flower beds or underneath mulch piles. However, every species is known to come indoors when the weather is unfavorable or there is a food shortage. Keep in mind that access to water is the single greatest concern for all cockroach species.
With that said, the Oriental and the German cockroach are most known for their habit of living inside. In fact, it's rarer to find German cockroaches outside of a building than it is to find them inside.
German cockroaches like to live anywhere that's close to food and water, which means living rooms, bedrooms, kitchens, and bathrooms are all potential targets. The Oriental cockroach prefers to focus on cool, damp locations like crawl spaces, basements, and even around toilets and sinks.
What do cockroaches eat?
It doesn't matter where a cockroach is at any given time. Roaches will eat nearly anything they come across due to their nature as scavengers. However, each species does have its own preferences.
American: Fermenting material such as decaying leaves, fungi, food in the trash, or overripe fruit are their favorite foods. They also like left out pet food and crumbs.

German: Any items that have nutritional value are fair game, including toothpaste.

Oriental: Decaying organic matter or high starch foods are their preference.

Brown-Banded: Any source is fair game, including other cockroaches.
How do I get rid of cockroaches?
Cockroaches can sneak into your home or place of business easily, thanks to their hitchhiking habits. Between their hitchhiking and their insanely quick reproduction rate, your cockroach issue can become a huge problem.
Before the cockroach population has a chance to grow any more than it already has, it's best to link up with a professional pest control company trained for cockroach control and elimination.
At Guaranteed Pest Service of Oklahoma, our team is here to help you become cockroach free. With over 45 years of combined experience, we've acquired the knowledge, training, and resources needed to ensure you reclaim your home. Reach out to us today to get an estimate for your pest control service needs today.
How can I prevent cockroaches in the future?
The best way to avoid a cockroach problem is to prevent the infestation in the first place. Implement the following tips for the best chance of success:
Clean everything from wiping down surfaces to washing the dishes daily.

Vacuum and sweep your floors regularly.

Store food properly.

Eliminate all water sources from leaking pipes to standing water.

Keep the gutters and downspouts clear to prevent water from pooling.

Practice proper trash management, including using lids that shut tightly and keeping trash far from the building.
Learn more about our home pest control options and commercial pest management solutions.
Request Your Free Estimate
Complete the form below to schedule your no obligation estimate.