In Oklahoma City, we have a variety of ant pests. Each is slightly different in terms of its harborage and food preferences, but there are some tips that generally work to keep ants away. These are natural methods that let ants know where they are allowed to be. Here's how they work.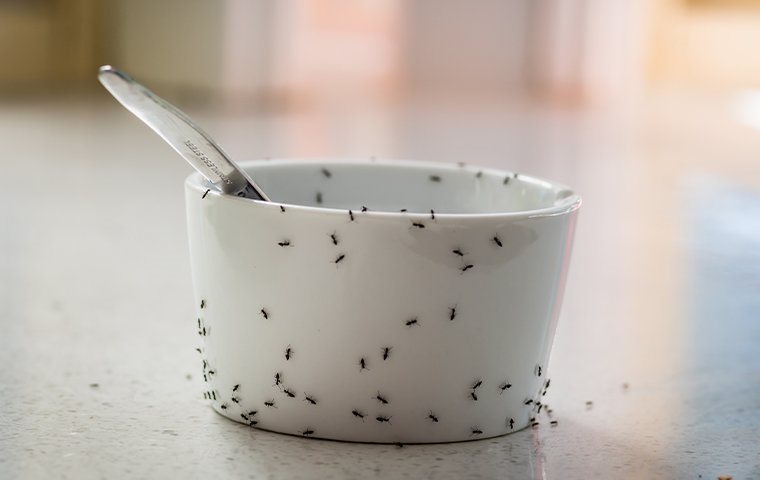 Tip 1: Address Aphid Problems
Aphids are insects that produce a substance called honeydew. If you have an aphid problem, it won't be long before you have an ant problem. There are many ant species that are strongly attracted to honeydew as a food source. Some ants love honeydew so much, they have been observed managing aphids for their honeydew, like humans manage cattle for their milk. One simple way to keep ants away is to remove this plentiful food source. You can address aphids with integrated pest management methods, such as:
Identification — Learn what aphids look like so you can quickly deter them when you see them. Keep in mind that there are several species in our area.
Mechanical Control — All it takes is water from a hose to spray aphids off your vegetation. It doesn't take much of a spray. Be gentle.
Cultural Controls — Aphids are drawn to plants that have high levels of nitrogen. This can be present in landscaping that is fertilized. Spread your fertilizer out and apply smaller amounts to resist aphids.
Natural Repellents — Aphids don't like certain natural scents. If you use essential oils mixed with water, you can create a scent on your plants that are a repellent for aphids. Find one that is pleasant to you but effective for control, like the scent of marigold.
Tip 2: Address Moisture
Many ants are attracted to moist habitats. If you have a perimeter that is moist, you'll generally have more pest activity. We recommend addressing moisture issues as quickly as possible.
Repair broken gutters, downspouts, and splash blocks.

Blow leaves and other organic debris away from your exterior.

Trim and remove unnecessary vegetation from your landscaping.

Water your plants in the morning.

Put sprinklers on a timer.
Tip 3: Manage Trash and Decay
Many ants are attracted to the scent of rotting organic matter. If you have a stinky trash bin, dirty recycling items, or something else that has a scent of decay, you'll attract ants.
Clean and disinfect your trash bins if they start to have an odor.

Make sure to thoroughly clean your recycling items.

Keep your grill clean and put away food items after cookouts.
Tip 4: Eliminate Water Sources
Ants want to be where there is a water source. They need a drink as much as they need food. There are many ways water can collect on your property. Here are a few to consider:
Many items can become a container. When the rain falls and collects in objects that sit in your yard, they become watering holes for ants. Store items away if possible.

Compacted ground can lead to puddles in your yard. Loosen the soil or create a grade to allow water to flow away from your home.

Repair damaged spigots, hoses, or sprinklers.
Tip 5: Seal Your Exterior
Sometimes, you can prevent ants from coming onto your property. The next step is to prevent them from getting into your property. You can keep them out by sealing openings they're prone to use, such as:
Gaps in weatherstripping, door sweeps, seals around window and door frames, water mains and wire conduits.

Gaps between sole plates and the foundation.

Damaged screens.

Damaged wood due to rot or pest issues.
When Ants Encroach
Sometimes ants don't take no for an answer, or you have conditions around your home that are difficult to address. The next step is ant control. All ants can be controlled through the application of baits, mound treatments, and other control methods. These should be selected and administered by a licensed professional to achieve the results you want. There are many ways ant control can go wrong.
You could use a fast-acting product and cause a colony to split. This will just make your problem worse.

You could use an incorrect bait and have no results.

You could use the right bait and the ants could learn to reject it.
If you live in Oklahoma City, contact Guaranteed pest Service of Oklahoma for effective control and management of ant pests. Our team has the experience to deal with pest ant species in our area. Reach out to us today for assistance. We can help you find the right solution for your specific situation.