Termites are one of the most destructive pests out there, causing more than five billion dollars in property damage each year in the United States. When faced with termites, many homeowners panic and choose the wrong methods of termite control, often attempting DIY solutions in an effort to save money.
In the end, these methods usually fall short, and homeowners waste time, money, and energy while the termites continue to wreak havoc on the property. When it comes to termites, what not to do is often as important as what you should do. Read on to learn the dos and don'ts of termite control in Oklahoma City.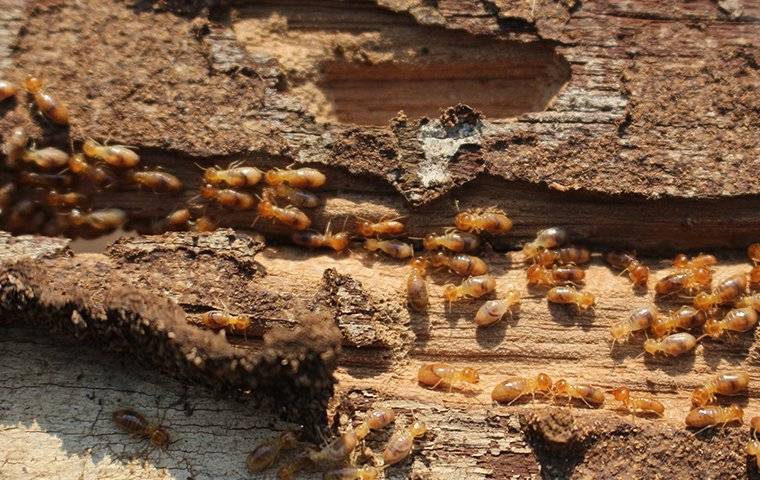 What Are Termites, Anyway?
Termites are small, wood-eating insects that are notorious for damaging wooden structures. The most common species of termite in the Oklahoma City area is the subterranean termite. Subterranean termites are known for constructing mud tubes that they travel through to find food and protect themselves. Subterranean termite colonies are organized into three distinct castes, each with unique physical characteristics. These castes are reproductives, workers, and soldiers.
Reproductive Termites
The reproductive caste is made up of the king, queen, and flying alates, or swarmers. The queen is the largest termite in the colony, while the king is much smaller. Alates are winged termites with black bodies, typically measuring ¼ - ½ inch long. Male and female alates eventually pair off together, shedding their wings and becoming kings and queens of new colonies.
Worker Termites
Worker termites are cream-colored and small, about ½ inch in length. They are the caste that does most of the work and causes the most damage, as they chew through wood while expanding the nest.
Soldier Termites
Soldier termites have large jaws and rectangular heads. Their bodies are wide, flat, and cream-colored, while their heads are dark brown. They use their formidable mandibles to fend off invading insects, especially ants.
Termite Damage In Oklahoma City
Termite damage can be extensive and costly. On average, termite damage costs American homeowners about $3,000 to repair. Subterranean termites usually invade in the warmer months, when swarmers fly out searching for new locations for their colonies. They are attracted to wooden structures, especially those that have been damaged by heavy rainfall or storms.
Termites will chew through any wooden part of a home, including walls, door frames, window sills, floors, roofing, and siding. If the damage is severe enough, termites can even cause the home to collapse. Taking action against termites early on is crucial to keeping the damage as minimal as possible.
The Limitations Of DIY Termite Control
In the event of a termite infestation, many homeowners attempt to remove the termites using various do-it-yourself methods. There are numerous over-the-counter sprays, baits, and barriers available for purchase online or in home improvement stores. Another popular method is to drill holes in the infested wood and inject them with orange oil or vinegar, both of which deter and kill termites.
While these solutions can be effective to an extent, they typically won't eliminate an entire termite population or keep them away for long. Professional assistance is the only way to guarantee that an active termite infestation has been completely wiped out. Preventive measures can also help reduce the risk of an infestation occurring in the first place.
Termite Prevention Tips
Preventative action can greatly reduce the likelihood of a termite infestation. Here are some tried and true termite prevention tips for Oklahoma City homeowners:
Keep firewood at least 25 feet away from your home, and always check logs for termites before bringing them indoors.

Limit soil-to-wood contact by keeping at least one inch of space between the ground and the wooden elements of your home.

Repair or replace any moisture-damaged wood.

Divert water away from your home with gutters, splash blocks, and downspouts.

Remove any wooden debris from your yard.

Fill any gaps or cracks in your home's foundation.
These tips will make your home less susceptible to termites, but be sure to reach out to a professional pest control service if an infestation does occur.
Effective Termite Control In Oklahoma City - Guaranteed Pest Service Of Oklahoma
When it comes to termites, DIY methods just don't cut it. Don't waste precious time, money, and energy on termite control that doesn't work in the long run. Contact the professionals at Guaranteed Pest Service of Oklahoma for thorough and effective termite treatments.
We offer complimentary termite inspections to identify whether your home has a termite problem. If we determine that there are termites on the property, we'll create a custom plan to eliminate the termites and keep them away. We offer a one-year warranty on our termite services and will return to re-treat if you have any concerns.
If you suspect that your home may have termites, don't hesitate to call Guaranteed Pest Service of Oklahoma to schedule your free inspection.