There are house spiders. Then there is the house spider. This spider species gets its name from the fact that it is probably the most common species found inside homes. It is the species Achaearanea tepidariorum. Here are a few things every Oklahoma City resident should know about them.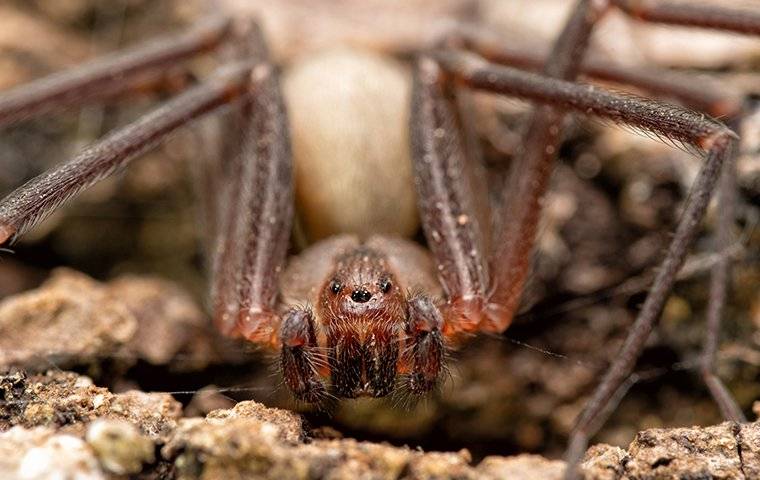 It's A Small Spider
If you see a common house spider inside your Oklahoma City home, you may not think much of it. Females range in size from 3/16 to 5/16 of an inch in length. Males are smaller, being only ⅛ to 3/16 of an inch. You are more likely to notice the web of a house spider than you are to notice the spider itself.
Expect Lots Of Webs
A house spider creates a web to catch insects and other small invertebrates. Its frequent food source is tiny flies. You'll find webs established in places where tiny flies can be found, such as in the space between your windows and your window screens or your sliding glass doors and your door screens. You'll see webs in the upper corners of your kitchen, particularly if you've been dealing with fruit flies, fungus gnats, phorid flies, or some other small (and abundant) pest fly. These webs can be numerous as a single house spider can tend to several of them. This is also why you find webs with no spider in them. They're probably not abandoned webs. A spider is likely checking the webbing routinely.
When They're Active
A house spider can be nocturnal or diurnal, depending on the conditions of its environment. If nocturnal behavior has more benefits, these spiders will come out at night to tend their webs when you're asleep. If this is the case, you'll rarely see them. If they are diurnal, you might see a little spider crawling around on a floor, wall, or other surface periodically.
Bites Are Rare And Minor
A house spider is not going to hunt you down to bite you, but it can bite you defensively if it feels threatened. Some describe a bite from this spider species as feeling like a pinch. The venom is weak and in most cases wounds caused by house spiders don't result in anything more than an itchy red bump with a minor rash. It is important to understand that this itchy red bump and its associated rash are due to an allergic reaction. If you have a strong allergy to the venom, you could have a strong reaction. While very rare, there are cases of serious allergic reaction to A. tepidariorum bites. Be cautious.
Why Do These Spiders Get Inside?
Your home is like a big cave or the hollow space inside a large tree. A house spider will find shelter from the weather and food options in your home. If you hope to deter these spiders, the first step is to address the insects these spiders feed on. Here are a few tips:
Replace exterior white lights with lights that produce light in the yellow spectrum. Insects can't detect yellow light and are therefore not attracted to it.

Keep trash receptacles free of strong odors, covered, and positioned well away from entry points.

Make sure all of your exterior screens are in good working condition.

Examine the frames around your screens and address any gaps.

Make sure your gutters do not have any breaks or clogs. If you look up at your gutters and you see plants growing, you definitely have an issue that should be addressed.
How To Deter House Spiders
Web removal is key to population control. House spiders create egg sacs that can have 100 to 400 eggs inside. That's a lot of potential spiders! When you actively remove webs and destroy egg sacs, you stop those spiders from hatching. The time of year when you're most likely to see egg sacs on house spider webs is in the summer. These sacs are tiny, brown, and papery.
The Benefits
There are benefits to having house spiders around. They help to catch dangerous pests like mosquitoes and ticks. This is why some Oklahoma City residents leave house spiders alone. We don't recommend doing this. There are better ways to get control of harmful pests like mosquitoes and ticks without having gross spiders and unsightly webs everywhere. If you'd like to learn about pest control, we would love the opportunity to speak with you. At Guaranteed Pest Services of Oklahoma, we have a wide selection of pest control services. We can help you find a customized pest control plan for your property.
It's easy to get started with a pest control plan in Oklahoma City. Just reach out to Guaranteed Pest Service of Oklahoma and request a free estimate. There is no obligation to purchase pest control service. Reach out to us today.