Carpenter ants in Oklahoma City can be sneaky. While their warning signs tend to be noticeable, they can go undetected if you don't know what to look for or where to look. This can allow these ants to damage your property. Carpenter ants have the unfortunate propensity for tunneling through structural wood. Here's what you need to know to protect your Oklahoma City property.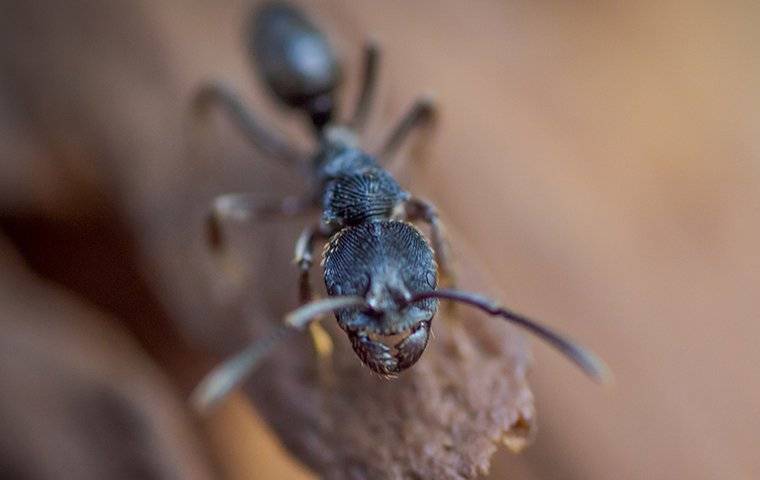 Frass
If you're not familiar with this word, frass is the waste that insects produce. It is a term that can be used to describe insect droppings or, as is the case with carpenter ants, it can refer to droppings, insect parts, and sawdust. If you find piles of material that looks like sawdust, you should know that your home doesn't produce sawdust on its own. That is a warning sign of a wood-destroying pest. You may find this material stuck to the underside of wood structures, such as a deck, porch, or patio. It is also likely to be found on the ground, or on a floor. Unfortunately, it can be deposited inside wall, floor and ceiling voids. This can cause you to miss this somewhat obvious warning sign.
Wood Damage
Carpenter ants can create damage that is visible. Unlike termites, and other pests that stay hidden in their tunnels to stay moist, carpenter ants don't have a problem being exposed to the dry Oklahoma City air. We recommend doing a routine inspection of your property and looking for any changes. If there are holes in window or door frames, deck support, and other structural wood, do a closer inspection. You may be able to easily expose tunnels inside the wood. Carpenter ant tunnels are smooth to the touch. If you find tunnels that feel gritty, you have a subterranean termite infestation.
Winged Ants
When a carpenter ant nest matures, it will produce winged female and male reproductives. These are called alates. When large ants with wings show up inside your home, or on the outside of your home, it is a good idea to get your property inspected by a licensed pest management professional immediately. The chances that you've detected carpenter ants before they've infested your property is low.
Wings
Winged ants swarm together. This swarming behavior lasts for less than thirty minutes. So, carpenter ant swarmers can appear and disappear in the time it takes you to run to a fast food restaurant and back. Fortunately, carpenter ants shed their wings during the mating process. If you find lots of wings lying around on window sills, floors, the threshold of exterior doors, your outside patio, or in spider webs, you should definitely get things checked out by a professional.
Chewing
If you put your ear to a wood timber that is being destroyed by carpenter ants, you're likely to hear them chew their tunnels. Hopefully, they won't find their way into interior wall or floor timbers, such as studs, trusses, etc.
Worker Ants
If you have a carpenter ant infestation in your Oklahoma City home, you may actually see the ants. They may be large black ants, or large dark red and black ants, depending on the species. Workers range in size from ⅜ to ½ an inch and they are polymorphic—that means there are going to be large workers and smaller workers. The alates will be about twice the size of the workers. At about 1 inch long, they're hard to miss, when you have the opportunity to see them. Keep in mind that you're most likely to find carpenter ant workers at night as these ants have a preference for nighttime activity.
How Guaranteed Pest Services of Oklahoma Can Help
Life gets busy. Who has time to do routine inspections for carpenter ant activity? When you invest in Home Pest Control with Guaranteed Pest Services of Oklahoma, you'll have routine visits and routine inspections. During your service visits, your licensed technician will look for carpenter ant activity, wood damage, and conducive conditions. If carpenter ants are detected, your technician will apply EPA-approved products to eliminate the colony(s). You'll also have ongoing treatments that reduce insects and invertebrates around your home. You may not know this, but these are food for carpenter ants. The more pest activity you have around your Oklahoma City home, the more likely you are to have issues with carpenter ants.
Let those Carpenter ants be your inspiration to get the pest control service you've always needed. Carpenter ants are far from the only pests in our area that can damage your property. There are also many pests that can present a threat to your health, and the health of your family. Reach out to us today and allow our team to guide you in finding the right home pest control solution for your specific needs and budget.