Professional Pest Control For Oklahoma City, OK Properties
Oklahoma City, OK, is a vibrant place with a lot going on. As the state capital, OKC has a considerable influx of people and a diverse array of properties. Unfortunately, all homes and businesses throughout Oklahoma City are susceptible to the nightmare of pest infestations. When common Oklahoma City pests get onto your property, they pose a number of serious threats to your property and your health. It's not a risk worth taking, which is why we strongly recommend securing ongoing services from the pest professionals. Luckily, you've come to the right place.
Guaranteed Pest Service of Oklahoma is here to address all of your pest control needs. Since 1991, our local, family owned and operated company has been providing complete residential and commercial pest solutions throughout the greater Oklahoma City area. With over 45 years of combined experience in the world of pest control, we bring you unmatched expertise and knowledge to effectively address and eliminate your pest problem from the inside out. Get in touch with us today to learn more about our pest control services and how we can help protect your Oklahoma City property from harm
Home Pest Control In Oklahoma City, OK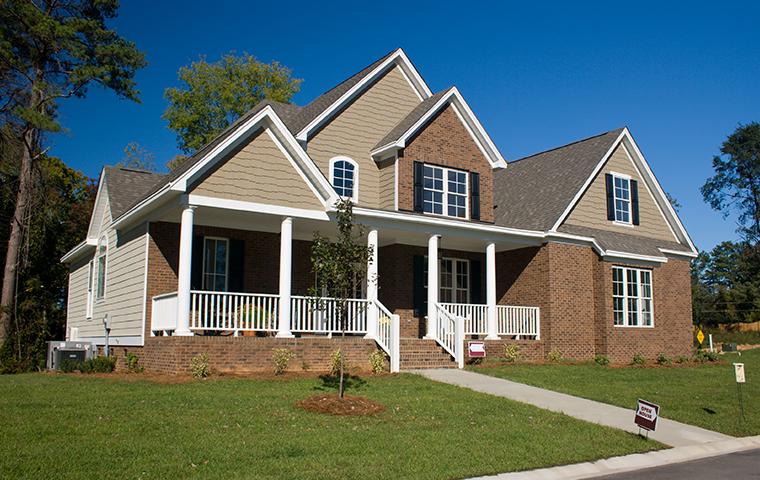 If you want ongoing pest protection for your Oklahoma City home, the team at Guaranteed Pest Service of Oklahoma is your best source for quality pest services. Our residential pest control services are used by over 300 local residences, bringing homeowners complete protection from a variety of household pests, such as termites, bed bugs, spiders, ants, cockroaches, stinging insects, rodents, mosquitoes, pantry pests, and crickets.
We begin with a thorough inspection, which includes:
Walk through of interior and exterior

Explain findings and suggested services

Sign customer up for appropriate pest plan
After we identify the nature of the infestation, we'll customize a treatment plan to meet your needs. Our team also follows up monthly, quarterly, or semi-annually to keep your property protected moving forward. Aside from our general pest control solutions, we offer additional services from ant control, termite control, rodent control, flea control, bed bug control, odor control, and termite certificates. Contact us today to get started.
Commercial Pest Control In Oklahoma City, OK
Your OKC business relies on good word of mouth around town. Maintaining your reputation is crucial to keeping your business up and running, and nothing can tarnish a business's reputation quite like a pest infestation. The best way to protect your facility from an infestation is to get professional help. Our commercial pest control solutions give local business owners the peace of mind that comes with guaranteed pest protection.
Our team of experienced pest experts has serviced over 200 local businesses, covering facilities such as office spaces, dental offices, financial institutions, law offices, retail stores, and doctor's offices. We specialize in commercial termite control and offer customizable services according to your business, your facility, and your particular pest problem. Call Guaranteed Pest Service of Oklahoma today to discuss our commercial pest control services in Oklahoma City, OK; we're eager to help.
Three DIY Termite Control Solutions To Avoid In Oklahoma City, OK
When it comes to termite infestations, it can be tempting to deal with it yourself. However, that's really not a good idea. DIY treatments cannot give you the thorough protection that a team of experts can provide. With so many DIY treatments on the market, it can be overwhelming to know what works and what doesn't. Here are three DIY termite solutions to avoid:
1. Laying down a piece of cardboard soaked in water to draw termites to the moisture

2. Placing infested items (like wooden furniture) outside to sit in the sun, so the heat kills off termites

3. Mixing half a cup of vinegar with lemon juice and spraying the mixture around active areas
The problem with these DIY efforts is that they never really tackle the source of the problem. Some of them lead to temporary results but don't address the problem in the long term. The best way to deal with termite infestations in Oklahoma City, OK, is to reach out to a team of qualified pest professionals. Guaranteed Pest Service of Oklahoma is here to deal with all of your termite control and prevention needs, and we guarantee thorough coverage you can't get from DIY efforts. Call us today to get started.
Which Cockroach Prevention Methods Work Best In Oklahoma City, OK?
When cockroaches make their way into your home or business, they contaminate the premises with droppings and fecal matter. They also spread a variety of germs and pathogens that can lead to a long list of diseases. If you want to do everything you can to prevent cockroaches from getting onto your property, it's crucial to eliminate any conducive conditions attracting them. There are a variety of preventative measures you can take to reduce your exposure to cockroaches:
Apply weatherstripping around windows and doors.
Eliminate sources of excess moisture in and around the property.
Install dehumidifiers in moisture-rich areas like the kitchen, bathroom, and basement.
Reduce clutter and make sure to vacuum the floor and under the furniture.
Regularly sweep beneath the stove and the refrigerator.
Take the trash out regularly and keep it sealed outside in a metal container.
While these tips provide you with a good jumping-off point, the truth is, none of these methods are as effective as ongoing services from the pest professionals. The team at Guaranteed Pest Service of Oklahoma is ready to rid your property of cockroaches and keep them out all year long. Give us a call today, and we'll schedule your complimentary inspection right away.
Request Your Free Estimate
Complete the form below to schedule your no obligation estimate.