What are pantry pests?
Pantry pests are pests like weevils, beetles, and moths that live and breed around or even in stored food items. This makes your Oklahoma kitchen pantry an ideal location. To make matters worse, they multiply rapidly, ensuring an infestation can spin out of control.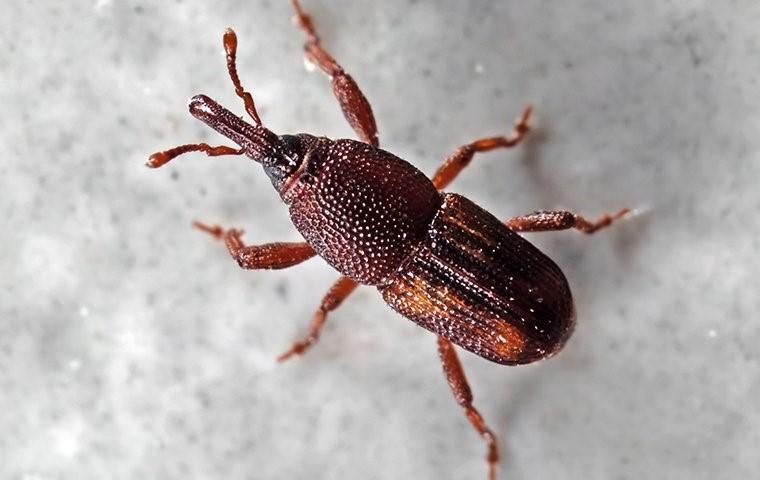 Hard Shell Ground Beetles
Stenolophus Lecontei
This pest can grow to more than an inch in length and is usually black. However, other colors like brown or red and black are also possible.
Boxelder Beetles
Boisea Trivittata (Say)
This pest is black with reddish-orange markings on its back. They possess an elongated oval-shaped body that appears flattened. Adult beetles also have wings.
Weevils
Curculionoidea
Weevils grow to about one-quarter of an inch in length and have long snouts. Most weevil species are gray or brown.
Are pantry pests dangerous?
As a rule, pantry pests are just nuisance pests since they don't pose any real threats to humans, aside from product contamination. That said, they should never be in your home or place of business.
These pests contaminate food with their saliva and excrement, which can lead to sickness if you don't notice them quickly enough. Interestingly, the adult pests are the least destructive, causing the most damage to stored food.
Why do I have a pantry pest problem?
Pantry pests first come inside because they're originally attracted to the bright outdoor or store lights. As such, they get inside through open windows, doors, and the spaces around doors and windows.
They also get into your house when you bring home packaged food purchased at the store already infested with the pests or their eggs or larvae. Once inside, they choose to stick around because of easy access to food and water.
Where will I find pantry pests?
Pantry pests live wherever food is stored that they can access. They lay their eggs on stored products, and the larvae use the products as a food source when they hatch. For residences, this usually equals the kitchen or pantry. In places of business such as a grocery stores, they'll exist where dry foods are. In addition to grocery stores, pantry pests are problematic in pharmacies, food processing facilities, restaurants, and food storage areas.
What do pantry pests eat?
Depending on the specific species, pantry pests will feed on a range of dry goods that include whole grains, dry pet food, cereal, cornmeal, pasta, flour, dried fruits, spices, cake mixes, chocolate, and tobacco.
How do I get rid of pantry pests?
Fortunately, it's rather easy to get rid of pantry pests at the beginning of an infestation since all you have to do is throw the contaminated package away. However, larger infestations require additional help.
Our team at Guaranteed Pest Service of Oklahoma is prepared to assist you with your pantry pest problems. With over 45 years of combined experience, we have the resources and training needed to ensure you're completely pest-free no matter the pest. Reach out to us to get an estimate for your pest control service needs today.
How can I prevent pantry pests in the future?
By implementing the following tips, you can prevent an active pantry pest infestation:
Avoid purchasing food products with rips and tears.

Don't buy dry goods in bulk.

Remove food from original packaging and store in airtight containers.

Keep pet food in metal containers with locking lids.

Perform regular pantry inspections and throw away any expired items.

Perform needed repairs along your building's perimeter.

Seal up any possible entry points.

Minimize the use of outdoor lights.
Learn more about our home pest control options and commercial pest management solutions.
Request Your Free Estimate
Complete the form below to schedule your no obligation estimate.