The best way to get rid of cockroaches and make sure you never get cockroaches again also happens to be the best way to never get cockroaches in the first place. While control products such as baits and targeted applications of synthetic insecticides are the tools professionals use to exterminate cockroaches, these products only provide a temporary fix on their own. They must be combined with sanitation, exclusion, and exterior habitat modifications to establish long-term control. This is because cockroaches have to get used to a new place. When they come into your yard and find an ideal area, they'll look for other areas like that on your property. If they get into your home, they won't immediately spread to every inch of it. They'll make themselves at home in more and more areas the longer they stay. You can deter cockroaches from spreading, stunt population growth, and guard against cockroach-related illness all by rolling your sleeves up and doing a little work. The best part is, not only can these cockroach-management methods work on their own, they're still important even if you invest in a cockroach treatment.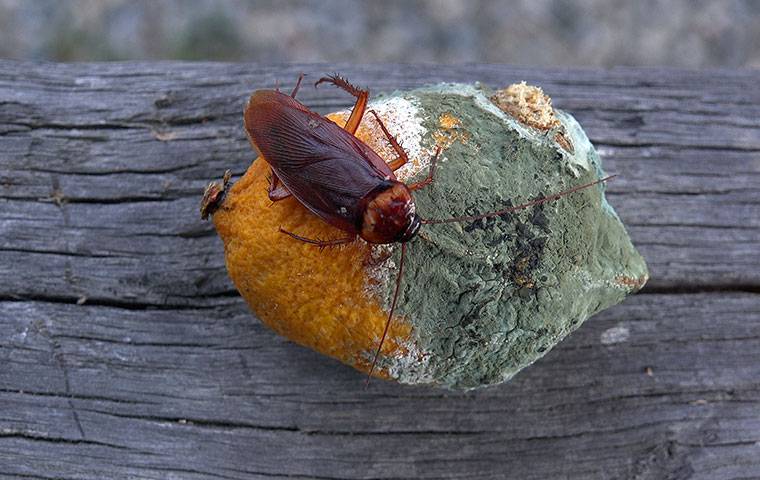 Sanitation Ideas
It's hard to get started with a good sanitation program, but once you get going it isn't so hard to maintain. The first step is a deep clean. Once you've done that, you only need to deep clean annually, and only in targeted areas. As you clean, consider these ideas:
Cockroaches can smell rotting organic matter from a distance, and they want to be close to this scent. Keep your kitchen trash receptacle clean and free of odors.

Clean shelves and cabinets. The food particles that get on these will motivate cockroaches to be active in the area.

Store your pantry foods in sealed containers. Cockroaches can chew through cardboard and paper.

Make sure to clean your recyclable items thoroughly before storing them for disposal.

Fix leaking faucets and showerheads. The tiny droplets of water left in sinks, tubs, and showers is plenty to sustain many roaches.

Repair any plumbing leaks, such as garbage disposals, pipes under your kitchen sink, and pipes under a jetted tub.

Never leave food out on the counters, uncovered.

Clean your couch. It is amazing how much food a roach can find in a couch, especially if you like to snack while watching television.

Clean your bathroom. Why? Because there is roach food in there. Cockroaches eat hair, dead skin, toothpaste, and many unpleasant things we won't mention.

Make sure to keep the outside of your home clean as well. Remove any potential food sources, clean your trash receptacles, and pick up pet waste.
Exclusion Ideas
Cockroaches are drawn to tight spaces. If you have tiny wood holes, foundation cracks, gaps in weatherstripping, and other vulnerabilities, roaches will take advantage of them. Here are some ideas to help you deter roaches.
A caulking gun is a great tool for filling in holes and sealing gaps. You can use it to fill in a hole in a door frame created by carpenter ants. You can use it to seal a gap around a water pipe. You can use it to seal gaps between your foundation and your sole plates. This is a great tool.

If you find openings that are too large to get with a caulking gun, expanding foam might be the answer.

Replace weatherstripping if you see gaps around your exterior doors.

Install door sweeps on any exterior doors that don't have them.

Don't forget to apply caulking material to gaps and cracks on the inside of your home. Create a seal around the pipe that comes in under your kitchen sink. Get around windows and doors. Seal gaps in your cabinetry. Seal baseboards. Every little bit counts.
Exterior Habitat Modifications
Cockroaches don't find every yard ideal. You can reduce activity around your home by removing decaying organic matter and the associated smells, as we mentioned already. But this alone isn't enough. You need to alter the habitat to make it less suitable for roaches.
Some roaches are called palmetto bugs. This is because they hide under palmetto fronds. But they'll also happily hide under leaf litter and other organic debris. Remove leaves, sticks, grass clippings, and other materials you gather from your yard.

Cockroaches hide under man-made objects. The more objects you have in your yard, the happier roaches will be. Remove things that don't need to be in your yard.

Cockroaches are attracted to vegetation. Keep your grass cut. Remove weeds, and keep your landscaping trimmed.

Cockroaches are drawn to damp habitats. Make sure your gutters are clear and in good working order.
Oklahoma City Cockroach Control
Pest management is great for proactive cockroach prevention, but sometimes cockroach pressures are higher than normal or unforeseen circumstances lead to an infestation. If you ever find cockroaches in your Oklahoma City home, reach out to Guaranteed Pest Services of Oklahoma to target them and exterminate them. We can help you flick the reset button and get back to having a roach-free home.