Keep Your Closing Dates On Track In Oklahoma City, OK
When you're buying or selling a home, checking for past termite damage is incredibly important. However, it can be one of the most frustrating parts of the experience. You have enough on your plate to deal with without having the headache of a slow-moving pest inspection process. Leave the hard work to us and allow us to make the process smoother for you.
Potential Problems & Damage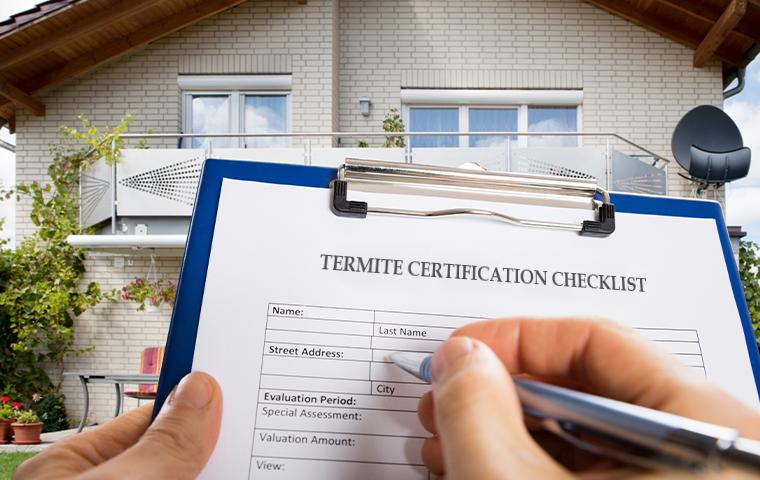 The need for a termite certificate stems from the destructive nature of termite infestations. While many homeowners don't even realize they have a problem, termites will work for months and even years in their homes, causing thousands of dollars in damages and threatening the home's structural integrity.
When purchasing a home, you never know its termite history. If termites have infested the property before, there is a high chance of a reoccurring problem. Plus, if there was ever any termite damage in the past, the problems could linger, or they may have never been taken care of. Understanding a home's termite history and potential for future problems can save you thousands of dollars.
Professional Assurances
With a professional termite inspection from Guaranteed Pest Service of Oklahoma, you'll be able to rest assured that your home has never been through any termite problems. Here's how our termite certificate service works. We will first provide a thorough inspection of the new property. What we inspect for is any sign of a past termite infestation or past termite treatments. By checking the sheetrock, walls, garages, and anything else that goes into the ground, we'll determine the home's termite history.
Once we have ruled out any past treatments or termite invasions, we will provide you with a no-obligation estimate on the best course of protection moving forward. We will also provide a termite certificate and the option to purchase our termite insurance.
If we do notice a problem, past treatment, or potential future termite attractants, we will recommend expedited termite services that we can provide in order to keep your move-in date on schedule. We'll also provide termite protection for future issues that will make you more confident in your real estate purchase. Each termite certificate comes with a one-year warranty, which you can renew upon inspection.
The Reliable Experience You Need For Life's Big Decisions
Purchasing a home is one of the most important financial decisions you can make. That's why you need the most experienced termite inspection team in Oklahoma City, OK and in the area. With over 45 years of combined experience dealing with the local termite species, we can provide the kind of assurances you need to move forward with your investment. Give us a call today to schedule your real estate termite inspection and receive your hassle-free termite certificate in the most efficient manner possible.
Learn more about our residential pest solutions and commercial pest management options.
Request Your Free Estimate
Complete the form below to schedule your no obligation estimate.