When rodents get into Oklahoma City properties, property owners do many things to try and get rid of them. Some of the things folks try don't actually work, yet they keep doing them because they think they work. As an example, you're not going to have success controlling mice by getting a cat. There are many cats that don't have the killer instinct. You can place a mouse down next to one of these cats and it will look at the mouse with indifference—or quickly move away. Even if you find a cat that loves to catch and eat mice, a cat is no match for a mouse. Mice can chew tiny holes in your baseboards and emerge behind cabinets, on shelves, and in other concealed locations where a cat can't get into. If your mouser catches a mouse or two, there is a strong possibility that there are still some mice in your walls that your cat isn't able to catch. The same is true of trying to trap mice. You can catch a few mice with some traps, but don't think for a second that you've caught all the mice in your home. A large mouse population can live in your home without making a single detectible noise. So what is the best rodent control for Oklahoma City properties? Let's take a look.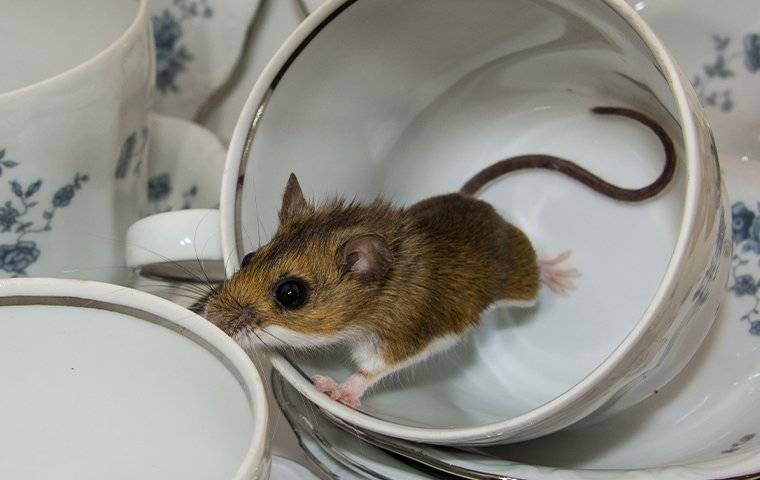 Create A Mouse-Resistant Exterior
There are many conditions that can make your exterior interesting to mice. If you alter these conditions, you can reduce mouse activity. This will lower your chances of having mice get into your home or, if you already have an infestation, it will stop exterior mice from replacing any mice you capture on the interior.
Mice are timid creatures that hide underneath objects on your property. They'll hide under and inside man-made objects but they have a preference for organic hiding places such as piles of scrap wood, dead branches you've collected, leaf piles, stones, bricks, concrete blocks, stumps, logs, and more. Alter conditions to make these unusable for mice to hide in.

Mice will hide underneath structures. If you have a shed, deck, staircase, porch, or some other structure with a void underneath, house mice will be drawn to these spaces. Use fencing material to keep house mice out of these voids.

Mice love dense landscaping and overgrowth. Remove unnecessary vegetation from your landscaping, such as grass and weeds. This will make it more difficult for mice to hide in your landscaping.

Mice eat birdseed. When seeds fall from bird feeders, they offer mice their primary food source, and mice desire to live as close to food sources as possible. This can inspire a mouse to live on your property.

Mice are attracted to the scent of garbage and can find a meal in your trash. Not only can mice climb, jump, and chew their way into trash receptacles, they're attracted to the scent of garbage. Make sure your trash is covered and routinely deodorize your receptacles to remove mouse-attracting odors.
Seal Holes That Attract Mice
Mice love tight spaces and are drawn to them. Use a caulking gun to fill in holes and to seal gaps. Mice can chew through this material but they're not likely to do so without incentive.
Protect Spots That Mice Are Gnawing
If you notice that mice are gnawing on wood, or some other building material, it may be necessary to protect these areas. Metal flashing and hardware cloth are often used to get this job done.
Make Your Home Unfriendly To Mice
If house mice get inside, there is little you can do to deter them from living with you, but you can make it difficult for invading mice to grow a population. Put stored foods in containers and keep your home as clean as possible. Together, these can drive the mice outside in search of food.
Limit Access
Mice are great climbers. If they find a way onto your roof, they'll be able to access your home through several vulnerabilities. Limit their access to prevent this.
Trim tree branches away from your roofline.

Put wire mesh in your downspouts to stop mice from climbing up.

Apply something prickly at the point where wires touch the sides of your home.
If Necessary, Hire A Rodent Control Professional
No two properties in Oklahoma City are exactly the same, and some properties make it more difficult to control mice than others. It is also possible to have higher-than-normal mouse pressures. When mice are driven into your yard, or when you can't naturally deter them by using the steps we provided above, targeted mouse control is necessary. The best solution for rodent control in Oklahoma City is to contact Guaranteed Pest Service of Oklahoma. Our licensed technicians have extensive training in mouse and rat control. We can guide you toward an effective solution for your specific needs and budget. Connect with us through our contact page and tell us a little bit about your mouse problem. Help is just a few clicks away!