Cockroaches are gross houseguests. There are few people who would say that they love the little pitter patter of cockroach feet on the kitchen floor at night. But do cockroaches present a danger when they get into your Oklahoma City home? That's what we're going to look at today. Here's what every resident should know about cockroaches.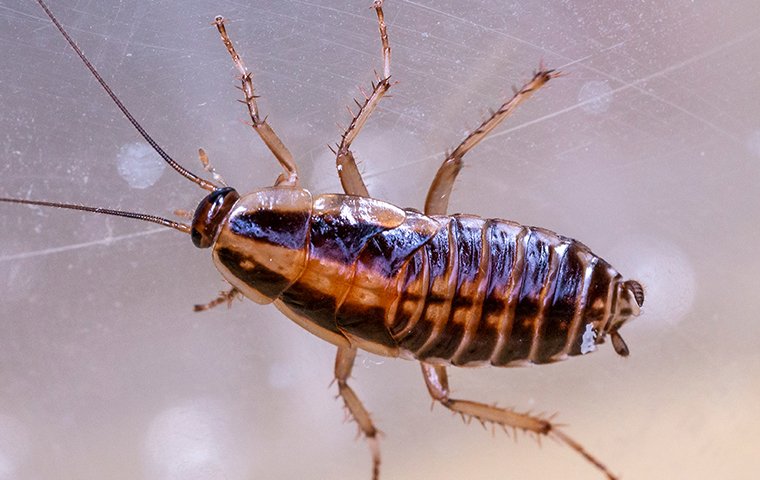 Common Pest Roaches In Oklahoma City
German cockroaches are the most common type of roaches we deal with in our area. This isn't surprising, considering the fact that German cockroaches are the most common pest cockroach in the world. These roaches are tan with a dark-colored equal sign on the back, just below the head.
The American cockroach is another very common roach in our area. This is also not surprising since it has "American" in the name. These are the big, brown cockroaches with the yellow figure 8 on their backs. When these roaches get into homes, they hang out in dark humid spaces.
Fortunately, many homes in our area don't have basements—which are preferred hiding places for these insects. The downside to this is that they are more likely to gravitate to the bathroom, where they're known to feed on toothpaste and come in contact with the bristles of toothbrushes.
Brown-banded cockroaches are somewhat colorful roaches that have a mixture of brown, tan, black, and yellow coloration. These roaches commonly get into attic spaces in Oklahoma City homes. Adult males are likely to fly when you approach them or disturb them.
Oriental cockroaches are black roaches that have a strong preference for damp areas. They don't prefer to be inside Oklahoma City homes, but they readily enter homes in search of food sources. This can make them more of a disease threat. Fortunately (or unfortunately) they have a strong aroma and are usually dealt with quickly if they try to take up residence in a home.
Six Ways Cockroaches Can Be Dangerous
If any of these insects get into your home, they can present a threat to your health and property. Here's how.
1. Cockroaches pick up harmful bacteria and parasitic worms on their legs and exoskeletons. When they crawl around in food, dishes, silverware, surfaces, toothbrushes, and other sensitive areas, they can cause contamination.
2., Cockroaches leave feces in the areas they explore. Since roaches eat rotting organic matter, feces, and other gross things, their feces can be a significant source of disease.
3. Cockroaches eat dead skin and are drawn to the scent of human body oils. For this reason, they can damage clothing, nylons, and fabrics that have come in contact with the skin.
4. Cockroaches don't prefer to bite people, but their love for dead skin can cause them to leave bites on the eyelids and around the mouth of sleeping people during the night. They'll also take to biting if food sources are scarce and they are hungry.
5. Cockroaches shed their skins several times as they develop. These shed skins are a source for allergens and are known to aggravate asthma symptoms.
6. Cockroaches can digest some cellulose. For this reason, they sometimes damage wallpaper, important documents, draperies, and the bindings on books.
The most common diseases cockroaches are associated with are gastroenteritis and diarrhea. If you or someone in your home is chronically ill with stomach issues, it is possible that cockroaches are to blame. Many residents have a roach infestation and don't realize it. Cockroaches don't prefer to be seen. This may be one of only a few early signs that you have a roach infestation in your home.
Other Ways To Detect Cockroaches
Roaches leave specks of black feces in the places they explore. You may find feces in cabinets, under appliances, inside humid voids, and in secluded areas of your home.

Roaches may leave ootheca or ootheca casings in hidden places around your home. These will be dark brown or orange.

Roaches leave shed skins in many places. Inspect cracks, crevices, seams, and stitching for these.

Roaches emit pheromones that have an odor to them. These pheromones can also alter the taste of food.

Most roaches stay hidden, even at night, but you may be able to catch a roach roaming around your home if you flick a light on in the middle of the night and do a quick search.
Cockroach Control In Oklahoma City
If you're dealing with pest roaches in your Oklahoma City home, reach out to Guaranteed Pest Service of Oklahoma. We can evaluate your cockroach infestation and guide you in selecting treatment options to address your infestation. We use field-tested products and strategies to fully eliminate roaches. We can also help you keep cockroaches out by providing you with year-round pest control for your home. Life is better without cockroaches. Guaranteed.