First things first. When the topic of hornets comes up, it isn't always hornets that are being discussed. While all hornets are wasps, not all wasps are hornets. In our area, there are some wasps that are referred to as hornets, though they aren't really hornets in the proper sense. If you see a stinging insect inside your home, and it doesn't have hair, it is a wasp. If the wasp is large, it might be a hornet. But, does it really matter if it is large or small? So, let's forego describing the entomology of wasps and hornets and get right to the heart of our topic. Here are some reasons you're seeing "stinging insects" in your Oklahoma City home.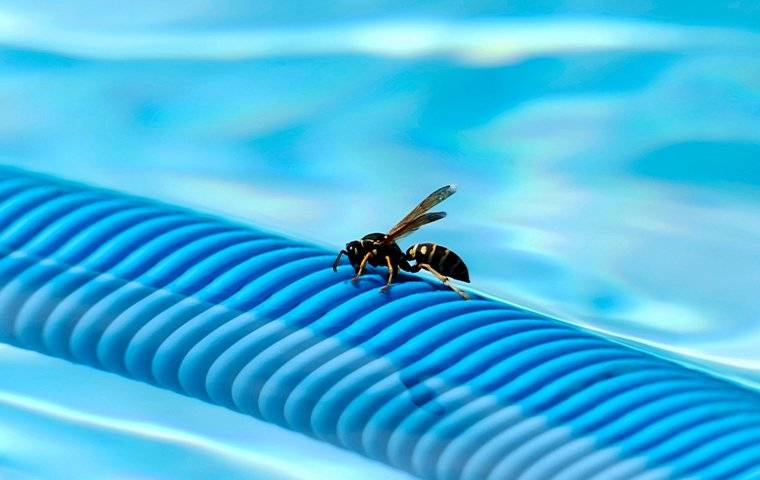 Cracks
The key reason you're seeing hornets, or some other stinging pest, inside your home is that they have found an entry point. There is only one stinging insect in our area that tunnels through wood. It is the carpenter bee. The rest must take advantage of gaps, cracks, and holes. In some cases, they may also take advantage of the tunnels created by carpenter bees, but this isn't easy as carpenter bees like to reuse old tunnels year after year. A stinging pest is more likely to come in through damage caused by carpenter ants, mice, rats, and other wood-damaging pests.
Habitat Preference
If your home has entry points, not every stinging insect is going to take advantage of them. Some excavate tunnels in the ground and establish ground nests. Some establish aerial nests in trees, and on the sides of man-made structures. There is only a small group of insects that create nests in voids. The most common wasp that establishes nests in voids is the yellow jacket. If you see these black and yellow wasps in your Oklahoma City home, there is good reason for concern. You could have a nest inside a wall void, floor void, or some other hidden space, and vibrations can cause that hidden nest to start pouring wasps out into your home. This can present a serious stinging hazard.
Windows And Doors
If you find wasps in your home, and they are not yellow jackets, it is possible that they're getting in through a door or window, and that there is no nest inside your home. A damaged screen on a window or sliding glass door can give all stinging insects an opportunity to get into your home. Keep this in mind as you examine the wasps in your home. If the wasps in your home are not the type of wasp that create void nests, it is likely that a damaged screen and open door or window are the reason they're getting in. There is another contributing factor to consider as well. You could have a wasp nest near the exterior of your home. This is common because stinging insects that create aerial nests like to create their nests in landscape bushes and in concealed areas on the sides of homes. This brings them into close proximity to your doors and windows. We recommend doing a detailed inspection of your exterior and look for:
Stinging insect activity

Paper nests in concealed locations

Damaged door or window screens
Attractants
When you find stinging insects in your home, there are contributing factors to consider beyond the availability of entry points and the establishment of nests. If you have attractants around the exterior of your home, you're likely to have more trouble with wasps. Some attractants can be reduced. Others cannot.
Wasps are attracted to puddles and other standing water.

Wasps will take a drink of water from objects that have collected rainwater.

Wasps are particularly drawn to sweet liquids. If a cup of juice has been left outside, it can draw wasps.

The more flowers and flowering plants you have, the more wasps you'll have visiting your home.

The more bugs you have around your home, the more wasps you'll have. Wasps eat protein sources.

If you have open trash, this will attract wasps. They eat sweets and meats found in garbage. They're not picky.
What To Do About Hornets In Oklahoma City
No matter what you find in your home, whether it be a hornet, some other wasp, or even a bee, it is wise to consult a licensed pest professional. A professional is able to give you valuable insights about the wasp activity you're seeing, and guide you in finding the right solution for the stinging insects you're dealing with. Wasps can inflict painful wounds, and there is a risk for a dangerous allergic reaction.
For assistance with stinging insect control in Oklahoma City, reach out to Guaranteed Pest Service of Oklahoma. We provide industry-leading pest control solutions that are guaranteed. When it comes to hornets, don't settle for anything less.